add: 11 May 2022
upd: 18 Jan 2023
All or Nothing at All - Nelson Riddle Arranged Bass Line
Format: .pdf
Number of pages: 4
from «Strangers in the Night (Frank Sinatra)» Reprise (1966)
---
Reference video:
If this link to the video is broken, please report it to us so we can replace it as soon as possible.
If you like this video, please buy the original music and support jazz music and jazz artists!
---
Pete Candoli, Don Fagerquist, Cappy Lewis, Ray Triscari (tpt); Dick Noel, Tommy Pederson, Tom Shepard (tbn); George Roberts (b-tbn); Chuck Gentry, Bill Green, Justin Gordon, Harry Klee, Abe Most (sax/wwd); Victor Arno, Israel Baker, Alex Beller, Herman Clebanoff, James Getzoff, Anatol Kaminsky, Ralph Schaeffer, Paul Shure, Victor Bay (vln); Barbara Simons, Paul Robyn (via); Justin DiTullio, Elizabeth Greenschpoon, Armand Kaproff (vie); Bill Miller (p); Artie Kane (organ); Al Viola (g); Ralph Pena (b); Irving Cottier (d); Victor Feldman (perc); Nelson Riddle (cond).
---
Preview: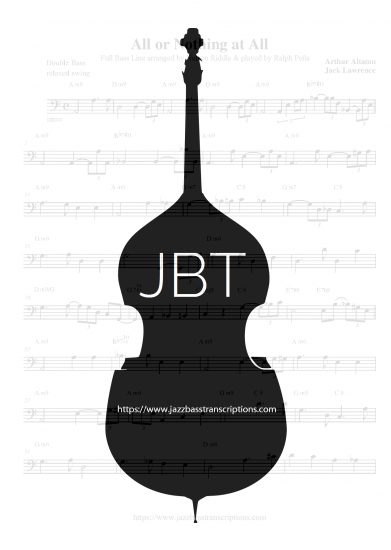 click on the image above to view the demo
Do you want to view a more detailed demo page?
Contact us!
---
---
Before purchasing a transcription that is not a Full Bass Score (eg, an extracted solo, a bass line for some choruses, the melody of the piece), please read the opening minute and second at the top left of the preview image.