add: 16 Jun 2022
upd: 08 Feb 2023
All The Things You Are - Red Mitchell Full Bass Score
Format: .pdf
Number of pages: 9
from «You're Me (Tommy Flanagan, Red Mitchell)» Phontastic (1980)
---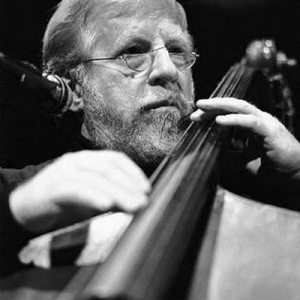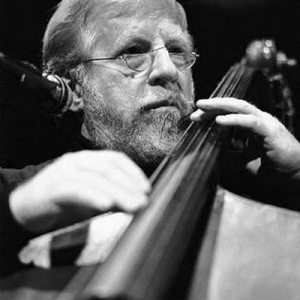 Red Mitchell
Born Keith Moore Mitchell in New York City on September 20, 1927, Red showed an early interest in both music and how things work. While growing up in New Jersey, he was encouraged by both his mother, who loved nature and poetry, and his engineer father, who loved music and could explain how things worked. After nine years of piano lessons, four years of alto sax and clarinet and an engineering scholarship to Cornell, he started playing bass in the army in 1947.
His first steady jazz gig was on 52nd street in 1948, playing in a trio opposite Charlie Parker's quintet. By the 1950s he had achieved early recognition for his recordings and performances with Charlie Ventura, Woody Herman, the Red Norvo Trio, the Gerry Mulligan Quartet, Andre Previn, Hampton Hawes and Billie Holiday among others. His second record as a leader, Presenting Red Mitchell, with Billy Higgins, Lorraine Geller and James Clay is still selling. Starting with a recommendation by Barney Kessel, he became involved in film and TV music.
In 1959 he became 1st bassist at MGM; and with Harold Land as co-leader formed a quintet in the early 1960s. Since 1966, in response to the demands of composers such as Henry Mancini, he changed the tuning of his bass to fifths. This, combined with amplifying it so that it sounds acoustic, makes possible a much greater range of notes, colors, dynamics and chords.
In order to get back to playing only jazz Red moved to Stockholm in 1968. He was welcomed in Sweden and around Europe, forming several groups and playing with visiting friends. Between 1977 and 1990 he spent about three months a year in New York City playing mostly at Bradley's with his favorite piano partners. Guitar and bass performances with Jim Hall, Herb Ellis, Joe Pass, Joe Beck and others brought attention to his "incomparable mastery" of the jazz bass. Leonard Feather called him "the best bass soloist in jazz".
He received recognition also for his singing, piano playing and original songs in 1986 and 1991 when he won the Swedish Grammy Awards. He wrote 122 songs, all of which he called "Tell it like it is music." In the words of the Grammy committee, "Firmly rooted in the immortal mainstream of jazz, having enriched Sweden's music life for 23 years, on his new record he performs as pianist, master bass player and vocal artist; also as the author of song lyrics that are both fierce and full of love. Here is a virile poetry, an almost burlesque humor and a playfulness that is rich in both intelligence and heart."
Red pursued his interest in jazz education with his courses entitled "Communication", "Bass Workshop" and "The Fifth-Tuned Bass" and taught students both privately and at music schools and clinics in Europe and the USA. Two of his better known students are Charlie Haden and J.J. Wiggins.
In September 1991 he and Horace Parlan visited Moscow as the first privately sponsored jazz musicians to perform in the Soviet Union. Russian television followed them from the airport to concert halls, Red's master class and studio recording sessions. A trio recording with Red, Horace and Viachislav Preobrazhenski (VP for short) was released entitled, We All Hope .
Starting in the late 1980s Red began working extensively with Roger Kellaway with whom he had recorded in Los Angeles in the 1960s. From 1987 to 1992 they collaborated on eight CDs including, Life's A Take, the first of the Concord Records Maybeck Recital Hall Duo Series. Indeed, the duo format dominated his recording sessions from the middle 1970s with many of his favorite musician friends including Clark Terry, Lee Konitz, Herb Ellis, Kenny Barron, Hank Jones, Bill Mays, Warne Marsh, Jimmy Rowles and many others. His discography by this time had gained him the reputation of being one of the most recorded bassists in jazz.
On November 8, 1992 Red died of a stroke just 10 months after he and his wife, Diane, had returned to the USA where they had settled in Salem, Oregon. A Memorial Fund has been set up in his name to complete unfinished projects and further the legacy of his life and his mastery of the acoustic bass. The first Red Mitchell Memorial Fund Scholarship was awarded to bassist Larry Holloway on February 8, 1997.
Red Mitchell was dedicated to music and communication. His personality and his playing were often described as being larger than life. Jim Hall said, "Red played the most gorgeous melodic solos of anybody on any instrument, I think maybe he and Lester Young were in the same league. The fact that it was coming out of a string bass was mind-boggling." And the classical bass soloist, Gary Karr, said, "I have always judged talent, whether its jazz or classical, on the sound a person produces because the sound is your signature. I think Red's signature was sure genius."
from redmitchell.com
Preview: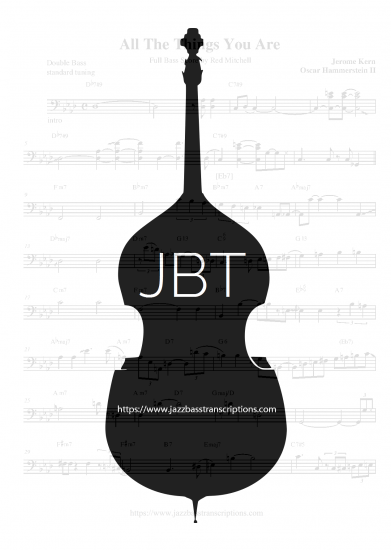 click on the image above to view the demo
Do you want to view a more detailed demo page?
Contact us!
---
---
Before purchasing a transcription that is not a Full Bass Score (eg, an extracted solo, a bass line for some choruses, the melody of the piece), please read the opening minute and second at the top left of the preview image.