add: 28 Jan 2021
upd: 29 Jul 2023
Alone Together - Christian McBride Bass Line (2 Ch.) + Solo
Format: .pdf
Number of pages: 5
from «Conversations with Christian (Christian McBride)» Mack Avenue (2011)
---
Christian McBride
SEVEN-time GRAMMY® AWArd winning jazz bassist Christian McBride can be likened to a force of nature, fusing the fire and fury of a virtuoso with the depth and grounding of a seasoned journeyman. Powered by a relentless energy and a boundless love of swing, McBride's path has described a continuous positive arc since his arrival on the scene. With a career now blazing into its third decade, the Philadelphia native has become one of the most requested, most recorded, and most respected figures in the music world today.
Preview: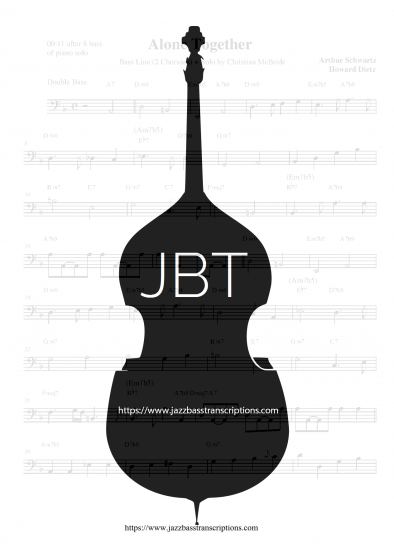 click on the image above to view the demo
Do you want to view a more detailed demo page?
Contact us!
---
---
Before purchasing a transcription that is not a Full Bass Score (eg, an extracted solo, a bass line for some choruses, the melody of the piece), please read the opening minute and second at the top left of the preview image.