add: 14 Mar 2021
upd: 29 Sep 2022
Translation - Oscar Pettiford Bass Line (1 Chorus) + Solo
Format: .pdf
Number of pages: 2
from «Lucky Thompson Featuring Oscar Pettiford Vol.1» Jasmine Records (1956)
---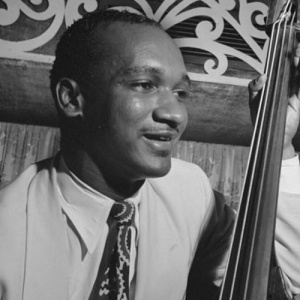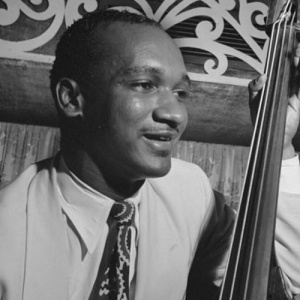 Oscar Pettiford
Pettiford was born at Okmulgee, Oklahoma. His mother was Choctaw, and his father was half Cherokee and half African American.
He grew up playing in the family band in which he sang and danced before switching to piano at the age of 12, then to double bass when he was 14. He is quoted as saying he did not like the way people were playing the bass so he developed his own way of playing it. Despite being admired by the likes of Milt Hinton at the age of 14, he gave up in 1941 as he did not believe he could make a living. Five months later, he once again met Hinton, who persuaded him to return to music.
In 1942 he joined the Charlie Barnet band and in 1943 gained wider public attention after recording with Coleman Hawkins on his "The Man I Love". Pettiford also recorded with Earl Hines and Ben Webster around this time. After he moved to New York, he was one of the musicians (together with Dizzy Gillespie, Thelonious Monk, Kenny Clarke) who in the early 1940s jammed at Minton's Playhouse, where the music style developed that later was called bebop. He and Dizzy Gillespie led a bop group in 1943. In 1945 Pettiford went with Hawkins to California, where he appeared in The Crimson Canary, a mystery movie known for its jazz soundtrack, which also featured Josh White. He then worked with Duke Ellington from 1945 to 1948 and for Woody Herman in 1949 before working mainly as a leader in the 1950s.
As a leader he inadvertently discovered Cannonball Adderley. After one of his musicians had tricked him into letting Adderley, an unknown music teacher, onto the stand, he had Adderley solo on a demanding piece, on which Adderley performed impressively.
Pettiford is considered the pioneer of the cello as a solo instrument in jazz music. He first played the cello as a practical joke on his band leader (Woody Herman) when he walked off stage during his solo spot and came back, unexpectedly with a cello and played on that. In 1949, after suffering a broken arm, Pettiford found it impossible to play his bass, so he experimented with a cello a friend had lent him. Tuning it in fourths, like a double bass, but one octave higher, Pettiford found it possible to perform during his rehabilitation (during which time his arm was in a sling) and made his first recordings with the instrument in 1950. The cello thus became his secondary instrument, and he continued to perform and record with it throughout the remainder of his career.
He recorded extensively during the 1950s for the Debut, Bethlehem and ABC Paramount labels among others. During the mid-1950s he played on the first three albums Thelonious Monk's recorded for the Riverside label.
Between 1954 and 1958, Pettiford also led sextets, big bands and jazz orchestras which played dates in Manhattan venues like Birdland, where he continued to explore unusual instrumental voicing including French horns and harp. The reedist and composer Gigi Gryce collaborated with Pettiford on the novel arrangements for the orchestra's hi-fi albums.
In 1958, Pettiford moved to Copenhagen, Denmark and started recording for European companies. After his move to Europe he often performed with European musicians, like Atilla Zoller, and also with other Americans who had settled in Europe, like Bud Powell and Kenny Clarke.
He died in 1960 in Copenhagen shortly before his 38th birthday, from a virus closely related to polio.
Along with his contemporary, Charles Mingus, Pettiford stands out as one of the most-recorded bass-playing bandleader/composers in jazz.
from Wikipedia
Preview: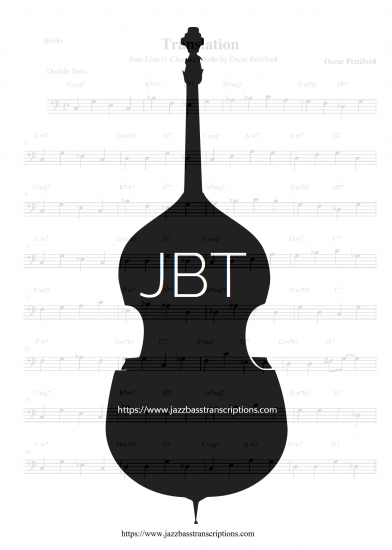 click on the image above to view the demo
Do you want to view a more detailed demo page?
Contact us!
---
---
Before purchasing a transcription that is not a Full Bass Score (eg, an extracted solo, a bass line for some choruses, the melody of the piece), please read the opening minute and second at the top left of the preview image.