add: 25 Mar 2020
upd: 30 Nov 2021
Pound Cake - Lester Young Sax Solo
Format: .pdf
Number of pages: 1
from «The Complete Count Basie Vol. 1: 1936-1941» CBS (1979)
---
Reference video:
If this link to the video is broken, please report it to us so we can replace it as soon as possible.
If you like this video, please buy the original music and support jazz music and jazz artists!
---
Ed Lewis, Buck Clayton, Harry Edison, Shad Collins (tp); Dicky Wells, Benny Morton, Dan Minor (tb); Earl Warren (as); Lester Young, Buddy Tate (ts); Jack Washington (bs,as); Count Basie (p); Freddie Green (g); Walter Page (b); Jo Jones (d).
Reca Date: May 19 , 1939
---
Preview: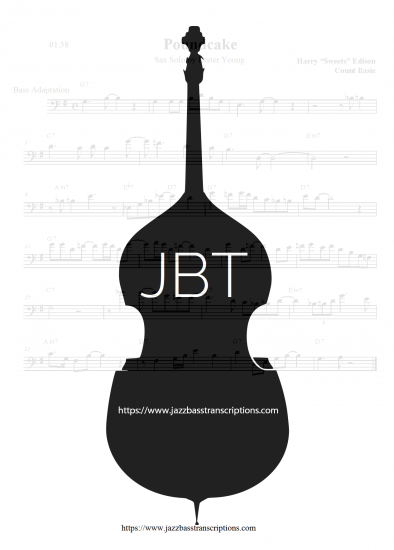 click on the image above to view the demo
Do you want to view a more detailed demo page?
Contact us!
---
---
Before purchasing a transcription that is not a Full Bass Score (eg, an extracted solo, a bass line for some choruses, the melody of the piece), please read the opening minute and second at the top left of the preview image.