add: 14 Apr 2020
upd: 25 Aug 2022
Rose Room - Charlie Christian Solo
Format: .pdf
Number of pages: 1
from «The Genius of the Electric Guitar (Benny Goodman Sextet featuring Charlie Christian)» Columbia (1987)
---
Reference video:
If this link to the video is broken, please report it to us so we can replace it as soon as possible.
If you like this video, please buy the original music and support jazz music and jazz artists!
---
Rose Room was one of the first studio tunes recorded 2 October 1939 by guitarist Charlie Christian after he joined the Benny Goodman Sextet. Goodman small group tracks are a good introduction to jazz and swing. They are popular circa forties' era tunes, with members taking melodic solos that can be appreciated against the chord changes.
Benny Goodman: Clarinet
Charlie Christian: Guitar
Fletcher Henderson: Piano
Lionel Hampton: Vibraphone
Artie Bernstein: Double Bass
Nick Fatool: Drums
Rec Year: 1939
---
Preview: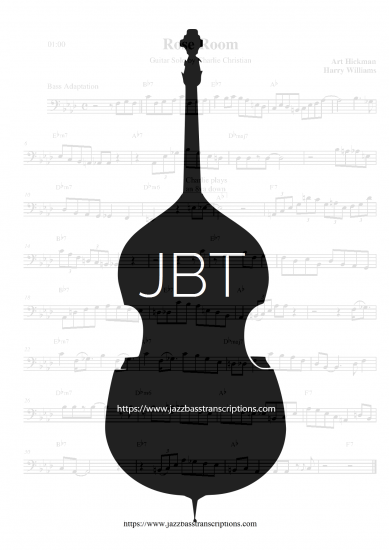 click on the image above to view the demo
Do you want to view a more detailed demo page?
Contact us!
---
---
Before purchasing a transcription that is not a Full Bass Score (eg, an extracted solo, a bass line for some choruses, the melody of the piece), please read the opening minute and second at the top left of the preview image.