add: 26 May 2023
upd: 26 May 2023
Solo Flight - Charlie Christian Solo
Format: .pdf
Number of pages: 4
from «Benny Goodman And His Orchestra» Columbia (1943)
---
Reference video:
If this link to the video is broken, please report it to us so we can replace it as soon as possible.
If you like this video, please buy the original music and support jazz music and jazz artists!
---
Alto Saxophone: Gus Bivona, Skippy Martin
Baritone Saxophone: Bob Snyder
Clarinet, Direction: Benny Goodman
Double Bass: Artie Bernstein
Drums: Dave Tough
Electric Guitar: Charlie Christian
Piano: Johnny Guarnieri
Tenor Saxophone: Georgie Auld), Pete Mondello
Trombone: Cutty Cutshall, Lou McGarity
Trumpet: Alec Fila, Cootie Williams, Irving Goodman, Jimmy Maxwell
---
Preview: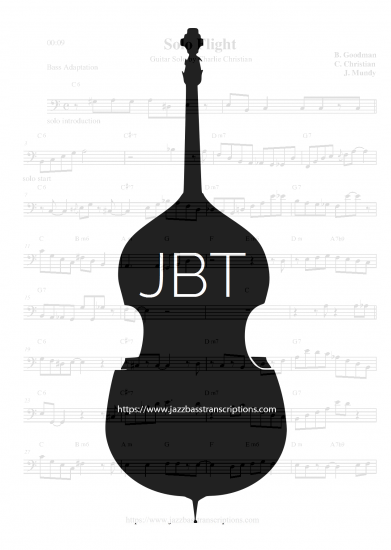 click on the image above to view the demo
Do you want to view a more detailed demo page?
Contact us!
---
---
Before purchasing a transcription that is not a Full Bass Score (eg, an extracted solo, a bass line for some choruses, the melody of the piece), please read the opening minute and second at the top left of the preview image.